My contribution is Chapter Eight.
Editor: Angela Voss and William Rowlandson
Date Of Publication: Jun 2013
Isbn13: 978-1-4438-4726-1
Isbn: 1-4438-4726-7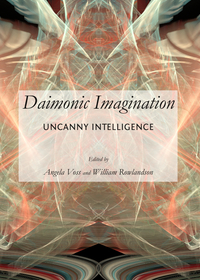 From the artistic genius to the tarot reader, a sense of communication with another order of reality is commonly affirmed; this 'other' may be termed god, angel, spirit, muse, daimon or alien, or it may be seen as an aspect of the human imagination or the 'unconscious' in a psychological sense. This volume of essays celebrates the daimonic presence in a diversity of manifestations, presenting new insights into inspired creativity and human beings' relationship with mysterious and numinous dimensions of reality. In art and literature, many visual and poetic forms have been given to the daimonic intelligence, and in the realm of new age practices, encounters with spirit beings are facilitated through an increasing variety of methods including shamanism, hypnotherapy, mediumship and psychedelics. The contributors to this book are not concerned with 'proving' or 'disproving' the existence of such beings. Rather, they paint a broad canvas with many colours, evoking the daimon through the perspectives of history, literature, encounter and performance, and showing how it informs, and has always informed, human experience.
William Rowlandson is Senior Lecturer in Hispanic Studies at the University of Kent, and former co-director, with Angela Voss, of the Centre for the Study of Myth at the University of Kent. He has recently completed a book entitled Borges, Swedenborg and Mysticism, which examines the relationship between Borges' own recorded mystical experiences and his appraisal of Swedenborg and other mystics. William's work on Cuban poet and novelist José Lezama Lima concentrated on Lezama's equation of poetry and the numinous. His published articles concern various areas of Latin American studies, including the history of Guantánamo Bay and Gitmo detention centre, rendition, torture, Cuba during the War on Terror. He has also published analyses of Borges, Lezama Lima, Cabrera Infante and Rulfo.
Angela Voss was a Lecturer for ten years in the Theology and Religious Studies section at the University of Kent, teaching on the MA in Mysticism and Religious Experience, and directing an MA programme in the Cultural Study of Cosmology and Divination. From January 2014, she will be teaching on a new MA at Canterbury Christ Church University: Myth, Cosmology and the Sacred. Angela is an honorary Lecturer for the MA in the Study of Western Esotericism at the University of Exeter, a tutor in Community Arts and Education at Canterbury Christ Church University, and a practising astrologer and tarot reader. Her research interests centre on the Western esoteric traditions and the symbolic imagination, and she has published extensively on the astrological music therapy of the Renaissance magus Marsilio Ficino.
Price Uk Gbp: 54.99
Price Us Usd: 82.99
Sample pdf (including Table of Contents)